WELCOME TO WARRIORS OF WEIGHT: TURNING HABITS INTO HEALTH 
HAVE A HABIT THAT HURTS? FROM TIME TO TIME, WE ALL DO. WANT TO CHANGE THE HABIT? WE CAN HELP!

We, as human beings, create habits all day long, every day. Some habits are great and support us. Others take away from our strength. We have to decide when in our lives which habits make sense. And WarriorsOfWeight.com is here to help.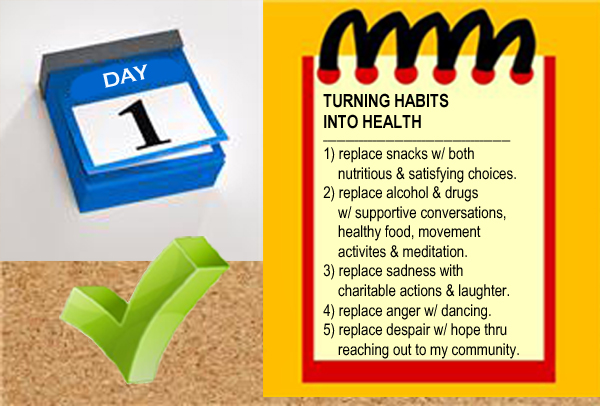 Whether we eat oily, salty or sugary snacks to satisfy a food craving; verbally react without consideration to a child because that's how we were raised; use mind/body-altering substances (prescribed or not) because we are tired, bored, nervous or emotional;  shut down our emotions because it's safer than experiencing pain; act out anger when someone challenges us; eat processed, unhealthy foods to save time; meditate before breakfast; brush our teeth; take our shoes off before we enter a residence; swim after work; pray before eating; we all have a grand supply of personal habits, some better for us than others, both internal (that we got through our perception of ourselves) and external (that we got through our perception of the world). WarriorsOfWeight.com was created to help moms and daughters, but fathers and sons have been part of our community from the beginning. Therefore, from now on, our focus is TURNING HABITS INTO HEALTH, for everyone who has a habit (that's all of us) and for those who want to change a habit without pain. Whether it's personal development through tai chi, free dance, electronic music, physical fitness community involvement for personal balance or proper nutrition to maximize our bodies; WarriorsOfWeight.com offers tools for self-improvement and the easiest path to change a habit by 1-step follow through. Any age, any time, always simple. Our panel of experts and inspirational mentors brings insights on exercise, nutrition, self-esteem, psychology, forward thinking, education, communication, health science, integrative health and more. We, a community, are in this together. Our RESOURCES section houses books, interviews, articles and music by some of the top people in the fields. This is not a site for untested, profit-motive products and services. Our NEWSBREAK section has current research.  The EXPERTS tab lists our panelists and their bios. We aim to publish tools for everyone to feel weightless, relieved, comfortable, inside and out. The material presented has been compiled with love and created to help with personal choices and what we share in common. Please join us on this magnificent trip of relating to and helping ourselves, our families and our communities in ways that make a lasting difference.
Not yet signed up for our free weekly magazine and free special report? Get 'em now at: FREE REPORT!.
If you need consulting on habits right now, you can GET YOUR CONSULT NOW!