9 WAYS CACAO CAN IMPROVE OUR HEALTH

(ISSUE 145)

SEPTEMBER 9, 2014



By Diane Gold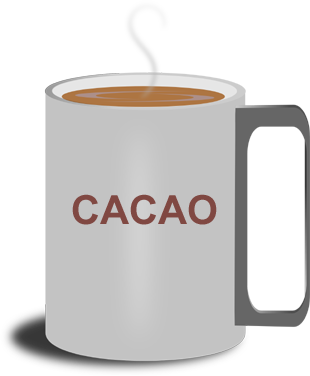 Cacao can improve your health in, oh, so many ways. Because of its positive effects, it has been used as a drink since between 1100 and 1400 B.C.E., according to a pottery residue discovery at Puerto Escondido in Honduras, written up in Fall, 2001, by Cornell U. Anthropologist John S. Henderson and UC-Berkeley Professor, Rosemary A. Joyce,
both of whom were at the ground breaking (pun intended) excavation of the pottery.
It's also been cited by U. Penn Museum's Patrick McGovern as an alcohol infused drink in Latin America whose residue his lab was able to detect repeatedly from ancient vats.
1)   AS A MOOD STABILIZER
Cacao stimulates the release of several neurotransmitters. It stimulates the release of serotonin which gives us a sense of well-being. It stimulates release of endorphins which make us feel high and happy. It also releases phenylethylamine and anandamide which are known to promote happy mood.
2)   HIGH IN MAGNESIUM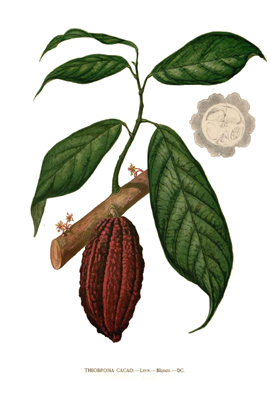 Magnesium balances brain chemistry, builds strong bones and helps normalize heartbeat and blood pressure. According to the nutritional facts of Sunfood's cacao powder product, which I use every day, 1 tablespoon of certified organic cacao powder has 17.5% of our daily  magnesium recommended intake (17.5% would be 56 mg for an adult older woman, which only fluctuates a little for younger adult women and is about 25% higher for men).
The single tablespoon is half the recommended amount. So, even with that, cacao has highest magnesium.
3)   HIGH IN SULFUR
Nails and hair grow strong with sulfur. Cacao is rich in this substance. Sulfur is also good for liver detox and happy pancreas.
4)   HIGH IN COPPER
The cacao powder that goes into my smoothie is about 25% of my daily copper intake.

GET ORGANIC CACAO NOW!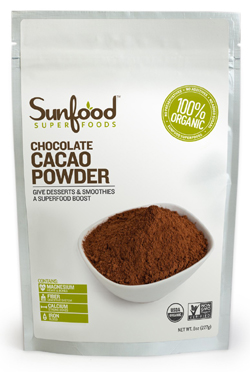 Now that you know some of the benefits of this amazing super food, make sure that you go get some for you. Then we can really share the cacao powder experience together.

5)   HIGH IN MANGANESE
The cacao powder that goes into my smoothie daily is about 25% of my daily copper intake.
6)   HIGH IN POTASSIUM, ZINC, IRON, SELENIUM
Little old cacao is chock full of potassium, zinc, iron and selenium, too. It even has some calcium.
7)   AS AN ANTIOXIDANT

Cacao is a powerful antioxidant, a substance that slows oxidation and prevents oxygen from ravaging our cells.
There is a 2010 ORAC (oxygen radical absorbance capacity) from the US Department of Agriculture, 2010. Unfortunately, the USDA has pulled their list because of abuse by marketers attempting to sell products by falsifying ORAC scores and for, what they say, is lack of concrete in vivo (in our body as opposed to in vitro (test tubes) evidence of effectiveness.
In the USDA 2010 list is cacao powder, listed as cocoa, unsweetened at 80,933. In the same list is blueberry juice at 2906. (I also saw an outside statistic of cacao's ORAC score, in powder form, as 95,500 per 100g compared to that of blueberries, 2,400, as tested by Brunswick Labs in Southborough, Massachusetts.)
We have helped cancer patients and the many with some type of inflammatory disease by using the list and the ORAC score, so I will keep using it as a reference.
8)   HEART HEALTHY FROM GOOD FAT
We know that not all fats are bad. The oleic acid that is a mono-saturated fat in cacao is good for us, similar to the fat in olive oil. It may raise good cholesterol.
9)   AS INSTANT AROMATHERAPY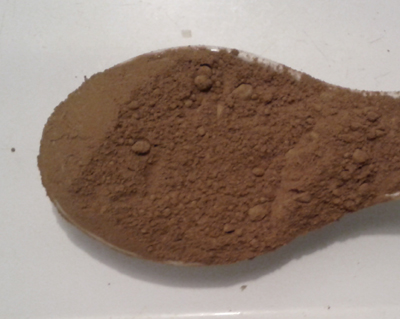 The smell of organic cacao powder is wonderful, only topped by organic maca powder. I think it's pretty incredible that the most amazing smelling plants I have encountered so far has history together. The people on the bottom of the Andes Mountains (in the Tierra Caliente, mountain zone 1) used to trade with the people at the near top of the Andes (in the Tierra Fria Zone): cacao for maca and maca for cacao. (This is called vertical trading which provides for all 4 Andean mountain zones.)
CONCLUSION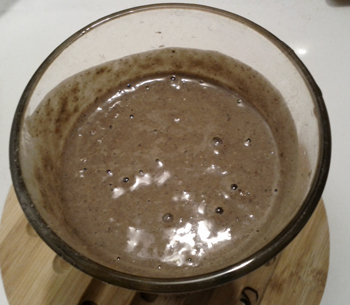 Who knew about cacao? It's taken me almost 65 years to make cacao part of my daily routine. Until now, I have not really known how spectacular it is for me. It can have caffeine content (which is, at least, 1/20th as much as a cup of coffee) that does not affect me (or others) the way it does in coffee or tea.
This luscious super food comes from Latin America (possibly originating in Ecuador), Malaysia, Indonesia and West Africa, for the most part. It needs shade and warm temperatures and shielding from wind. Cacao grows around the equator, plus or minus 20 degrees, needs an even amount of rainfall and temperature.
Cacao contains numerous nutrients and has many benefits for our heart, liver and mood. It has also been used to help regulate appetite. It is considered a super food because it has so many advantages to health in one single serving, which is 1 or 2 tablespoons.
Best eaten in its purest state, cacao in both powder and tiny pieces (called nibs) carry all the nutrition mentioned in the above message. As with most foods, cooking can destroy the vitamins and minerals and the addition of other ingredients may take away from the super health associated with cacao.
ACTION STEPS
1)   COLD CACAO DRINK
Mix a tablespoon of organic cacao powder with 8 ounces of flax milk (or almond or soy milk) and stir. See how you like it cold.
2)   GET ORGANIC CACAO POWDER HERE!
3)   WARM TRADITIONAL DOMINICAN CACAO DRINK
Use this recipe for warm cacao drink by Josefina from the Dominican Republic.

I had the privilege of being invited to watch Josefina, a best friend's mama, visiting from her home country, make this traditional preparation.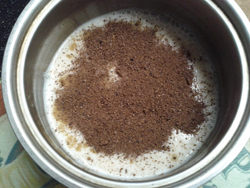 INGREDIENTS
a)   Pinch of cloves
b)   Pinch of nutmeg
c)   1 TBS. organic cacao powder
d)   8 ounces of flax milk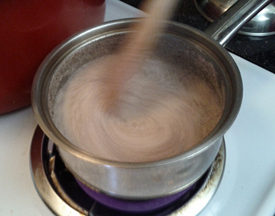 INSTRUCTIONS
1)   Add the dry ingredients to the flax milk in a saucepan
2)   Bring the mixture to almost a boil on medium high
3)   Immediately lower the heat to low-medium, and stir constantly for 2-3 minutes.
4)   Take off the heat, and let it sit for 2 minutes.
5)   Pour into a cup and let it cool as needed.
6)   Enjoy!

If you wish to share your story, please hit reply in your email program to be contacted.

FEEDBACK
We value your feedback very much.
Please leave a comment below.
Please LIKE us on the website and at
WarriorsOfWeight on Facebook.
You can also follow us on Twitter: @warriorsoweight.
Thanks.

DIANE GOLD, PUBLISHER AND AUTHOR
Diane Gold, Founder of Warriors of Weight, Turning Habits Into Health, is a mentor in tai chi, kung fu and meditation, a music, fitness and stress expert, dedicated mom, studying plant-based nutrition, peaceful conflict resolution and habit replacement.
She believes in keeping her eyes, ears and mind open. We might think we know about a subject, but, chances are, we can learn more. She says,
"Whatever we resist, we should examine. If we are set in a certain way, it might be time to change the setting. Whether it's about nutrition or politics, any time may present a tipping point.
"So true with nutrition. One day, we don't know the benefits of cacao, so it is not part of our diet. The next day, we have new (to us) information. We can use the new knowledge as we see fit.
Many people for many years have used cacao: for medicine, for monetary exchange since it was so highly valued, for feeling good and energetic. And, that smell is so good.
"Be diligent when getting it. There are so many ways that companies will include one fraction of a processed ingredient just to use the name "cacao." It's best to buy it pure, from a company that has an ethical philosophy.
"Hope you all enjoy it as I do.
"If you're tempted, get some cacao!
"Finally, let us all take good care of ourselves because we are worth it, even if we don't feel it!"

Leave a Reply
You must be logged in to post a comment.