SEXUAL RIGHTS: THE RIGHT TO REFUSE ~ ISSUE 202 ~ DECEMBER 22, 2015
http://warriorsofweight.com
SEXUAL RIGHTS: THE RIGHT TO REFUSE ~ ISSUE 202 ~ DECEMBER 22, 2015
By Diane Gold
FOCUS ON THE RIGHT TO REFUSE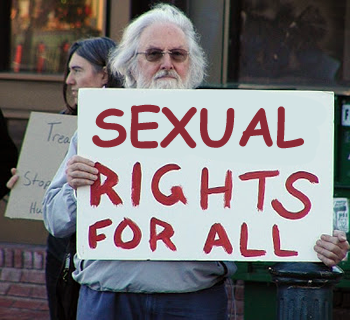 Sexual rights are human rights that pertain to sexual activity and sexual health. This essay focuses on the rights to have or not to have sexual activity, sharply stressing the right to have full freedom to consent to or refuse sex, including within marriage, without the risk of violence, kidnapping, position reducing or deprivation of any kind for having chosen to refuse.
[FACT: In the United States, marital rape is a crime in all 50 states.]
SEX ON DEMAND IN THE SCROLLS
There are many writings that do not share the philosophy that sexual refusal is a right. The way most are written is that it is a wife's REQUIREMENT to satisfy a husband's SUMMONING for sex. How sad that physical and emotional torture, which UNWANTED sex is, should be a requirement!
ALL OF THE DOCUMENTS I have found were written by men with a sexual slant that men are more important than women and that women are to serve men.
When we pick a jury for a trial, do we not question each juror to make sure s/he does not have a preconceived notion, a prejudice, that would damage objectivity? In the same way, we must look hard at any writings that pleasure one human's rights over another, that violate women's rights for the pleasure of men or that violate men's rights for the pleasure of women.
SEX EDUCATION AS HUMAN PROGRESS
In the last several years, various countries have begun voluntary sex education classes or are planning them for refugees migrating to their country or those who are already there. Of late, many migrants come from countries that do not honor sexual rights of women. Norway is a leader, beginning nationwide programs in 2013. classes that will help newly arrived immigrants to see that women have the right to out, relax in bars in short skirts and go out without an escort. Hopefully, the class will teach that the following New York Times quote by a new immigrant to Norway shows that his current habit (revealed by his quote) is a violation of human rights and is illegal.
"Men have weaknesses and when they see someone smiling, it is difficult to control," Mr. Kelifa said, explaining that in his own country, Eritrea, "if someone wants a lady, he can just take her and he will not be punished, " at least not by the police.
PUBLISHER'S QUESTION ON SEX EDUCATION
When we teach about sexual rights, we are exposing the student to the idea that we have the right to refuse. We are not promoting consent or refusal, we are just talking about rights. If our familial belief system does not offer this right of refusal, what is wrong with hearing that some cultures allow it?
CONTAIN VIOLENCE THROUGH UNDERSTANDING
The best way to contain violence is through understanding. We know it is wrong to do violence to another person. However, to obtain power, land or get people to accept our thinking, we use it. To get revenge against someone who has hurt our ego, we use it.
Yet, developing a new habit in immigrants by showing them new behavior is precious. The new sexual education will allow them to assimilate the mores of their new country without frustration, misunderstanding or mistakes. Once their new habit – that of valuing humans as equals – takes hold, they will know the new rules. It is true their cultural connection to rights violation may take longer to change. But, at least, they will see there is another side to the way people act and respect; they will consider the rights of others and they will learn the rules of their new environment drastically differ from their old.
Hopefully, new understanding will reduce violence.
CONCLUSION
Sexual rights are inherent. We are not born as slaves, even if someone else says we are. We are not born as sex objects, even if someone else says we are. We may be relegated to act those positions by people who can deprive us or deprive our loved ones of food, water, shelter, clothing, work, creativity and rest and relaxation. But the rights are still ours.
It is important to give great thought to human rights, whether we have read about them in a special book or learned about them through living them. Should we focus on one part of an ancient scripture, such as a wife shall cater to her husband when in the same book doing so would violate the loving thy neighbor as thyself or thou shalt not steal edicts? How can we have a rule that does not apply to all humans?
Rights are rights. They apply to us all.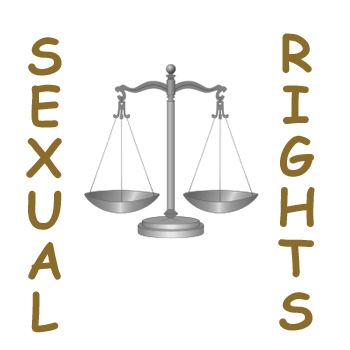 Let us give sexual rights education to those new to our territories. Let us be understanding of those who do not believe as we believe. And let us profess kindness, an easy activity to understand.
ACTION STEPS
1) Consider how you would explain sexual rights: the right to refuse, and post it by scrolling down to the comment section here.
2) Discuss the sexual right of deciding for yourself when and when not to engage in sex when a spouse asks for it. Before you start, agree to stop the discussion if anger enters.
3) Consider volunteering at a sexual abuse clinic once.


If you wish to share your story, please hit reply in your email program to be contacted.
If you need habit help, go to warriorsofweight-consulting.
FEEDBACK
We value your feedback very much.
Please leave a comment below.
Please LIKE us on the website and at
WarriorsOfWeight on Facebook.
You can also follow us on Twitter @warriorsoweight.
Thanks.

DIANE GOLD, PUBLISHER AND AUTHOR
Diane Gold, Founder of Warriors of Weight, Turning Habits Into Health, is a mentor in tai chi, kung fu and meditation, a music, fitness and stress expert, dedicated mom, studying peaceful conflict resolution, habit replacement and certified in plant-based nutrition.
She believes in freedom. She says,
"When we force a human being to do something s/he has not chosen, it is wrong. When we force a human being to do something sexual s/he has not chosen, it is worse because, not only does it involve bending the emotional will, it involves bending someone's desire while touching her/his physical body.
"When we are forced to do something that involves our body, the memory of it lingers and lingers and lingers.
"When I think about a spouse forcing a spouse to have sex, I am sad. Why would any spouse care so little for her/his spouse as to force such an act? This sounds like abuse, not love. It also sounds exactly like rape. And, in the eyes of American law, it is.
"Our spouse is not our object and cannot be forced. (I know there are certain rituals in certain cultures that may be different from this. I ask us to look at them.) Even the prostitute, whose job it is to have sex for money, does not have the right to be forced. In the eyes of the law, if we say no, it is no.
"Let's be conscious, kind and studious of sexual rights. It is only fair.
"And, finally, let's take overall good care of ourselves because we are so worth it."

EXERCISE OF THE WEEK




IS TO GIVE SOMEONE A HUMAN RIGHT.
Leave a Reply
You must be logged in to post a comment.