IMPORTANT NOTE
For people with a medical diagnosis or a prescription drug regimen, I'd like to begin with Elisa's words in quotes below,
"Be sure to discuss the possibility of a Cleanse with your [health care professional]. Large and heavy doses of medication are especially hard on your organs without solid foods. As a result, juice cleansing may not be an appropriate option."
Although not everyone will use the cleanse, this article gets us in the mood to consider the benefits of regular juicing for fun and health.
THE JUICE CLEANSE (Issue 30)
by Elisa Rodriguez
WHAT IS THE JUICE CLEANSE?
It's essentially a liquid diet consisting of organic fresh fruits and vegetables (without the fiber), in most cases that take the place of solid foods for a day or certain number of days.
WHAT IS THE PURPOSE OF A JUICE CLEANSE?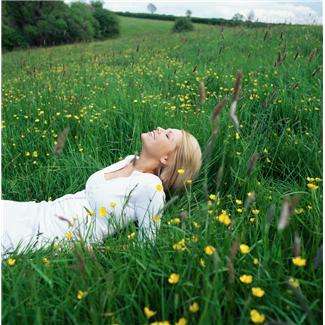 The point is to allow the body a period of rest, free from breaking down heavy meals, which, in turn, enables the system to "clean house." It's a sort of reboot for all the systems of the body.
Since we spring clean our homes and regularly maintain our cars, we should also make it a priority to fine-tune our own uniquely crafted vessel. It's the only one we've got!
THE JUICER
My personal favorite is the Breville (any model), due to its large chute, quick speed and minimal prep required.
PUBLISHER'S NOTE
Any juicer will do a fine job. Do a little research to see which one is right. It's an individual decision. There is also an alternate option below for those who don't have a juicer.
CLEANSE PREPARATION
Once you have a juicer, you want to select a 3-day period where you can focus on the Cleanse. This will mean:
•    Mentally preparing to consume fewer calories and to feel hungry.
•    Including one day pre and post juicing for fruits and veggies only.
•    Having the proper ingredients in your house for pre-, post- and during the cleanse.
•    Allowing time to prepare the juice despite your busy schedule, and, in fact, slowing down your schedule for the cleanse.
•    Allowing a period of minimal activity to deal with detox, which may or may not include headaches, fatigue and irritability.
•    Allowing time to rest and relax so your body can work most effectively.
Let's break this down further.
WHAT INGREDIENTS SHOULD I START WITH?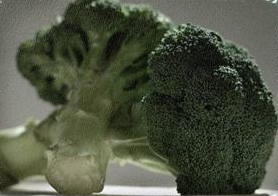 Cucumber, celery, broccoli stems, and apples make a great simple starter. Believe it or not, the cucumber and broccoli stems have a mild sweetness, so they provide a nice neutral flavor.
THE 3:1 RATIO, THE KEY TO GREEN JUICE AND BALANCED BLOOD SUGARS
The beauty of the cucumber/celery/broccoli/apple combo is that it provides a 3 to 1 ratio of non-starchy veggies to fruits and/or higher glycemic index veggies (like carrots), assuming that equal proportions are used.
PUBLISHER'S NOTE
1)    High glycemic fruits or vegetables are used more sparingly because they break down more quickly, raising the blood sugar level.
2)    The elevation in the blood sugar level produces insulin to transport the sugar to be used by cells as energy.
3)    When lots of insulin is produced from eating high glycemic foods (like high glycemic fruits or vegetables), this production tells the body it has lots of energy.
4)     Because the body thinks it has lots of energy, it stops burning fat and starts storing it.
5)    Another concern is that, the insulin removes too much blood sugar from the blood so the body feels tired and hungry.
6)    When the body feels tired and hungry, we crave sweets, overeat and start the cycle over again.
#
This ratio ensures that a less sweet beverage is absorbed into the blood stream to avoid a spike in blood sugar. The vegetables naturally reduce the sweetness of the beverage. The reduction in sweetness results in steadier serum values, less and lower spikes to reduce the occurrence of plummeting blood sugars, which follow an elevated glucose level resulting in a false sense of hunger and ultimately overconsumption of calories.
Therefore, to juice effectively, you want to maintain the 3:1 ratio at all times. This isn't to say that carrots or fruit (higher glycemic index foods) are unhealthy. In fact, they are just the opposite, but the quantity and combination of such ingredients should be carefully considered when juicing for wellness.
PUBLISHER'S NOTE
Some non-starchy veggies are artichoke, arugula, asparagus, bean sprouts, broccoli, brussel sprouts, cabbage, cauliflower, celery, cucumber, daikon, kale, eggplant, greens leek, lettuce, okra, onions, peppers, radishes, zucchini.
Some starchy veggies are beets, carrots, corn, green peas, parsnips, plantains, pumpkin, sweet potato, taro, white potato, winter squash, yams.
High Glycemic Index veggies are potatoes, corn, carrots, beets, turnips, parsnips. Beans vary in glycemic index level.
#
WHAT ABOUT ORGANIC PRODUCE?
Purchase as much organic produce as possible, since the pesticides are easily absorbed when the body comsumes juice.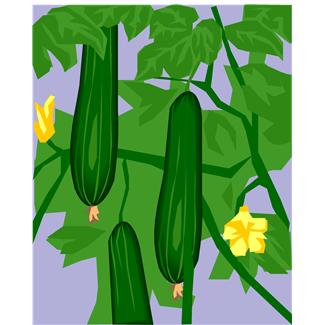 Cucumbers tend to be expensive, yet they contain some of the highest pesticides. I typically rinse them in vinegar to help strip the pesticide residue from their skins, which I peel for added insurance.
One item, which you might buy non-organic, would be citrus due to the thick protective peel or rind, unless you intend to juice the entire rind. Then, organic is recommended.
The other perk to organic is that, as you refine your taste buds by consuming a clean unprocessed diet, you will find that organic produce has added flavor.
Eventually you might combine and juice whatever collaboration of produce you conjure up from your fridge (provided it follows the 3:1 ratio); this is my norm. In fact, if you have an overflow of produce that is soon to spoil, juicing is a fantastic way to avoid lost nutrients to the trash.
HOW LONG SHOULD A BEGINNER CLEANSE?
If you've never purely juiced before, I suggest starting with a one-day cleanse and easing yourself into the juicy goodness. This requires one day of raw fruits and veggies pre-cleanse and one day of gently cooked/blended fruits and veggies post-cleanse.
THE PRE- AND POST-CLEANSE REGIMEN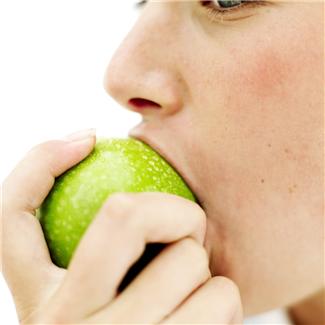 For anyone and everyone attempting a juice cleanse, I suggest allowing one day of low starch fruits and veggies before and after the actual juicing. This allows your body to adjust to the lighter fare, while lessening the withdrawal effects from your usual routine.
Regardless of how many times one cleanses, this is a vital step to make the cleanse most effective.
Pre-fast, (the word "fast" refers to the juice fast and is synonymous with the juice cleanse) your stomach receptors are expanded and stretched and awaiting a larger quantity of food. By leaning in from large meals, to fruit and veggie solids, to fruit and veggie liquids (aka juice), it is much less of a shock to your system. This single step could make a BIG difference.
Similarly, post-fast, your stomach receptors have shrunken from a liquid diet. Your body has become content with less, and you don't want to undo this hard-sought progress with a heavy meal. If you resume heavy meals too quickly, you may very well end up with a stomach ache, nausea or bathroom blues.
Post-cleansing, you should resume solids slowly by starting with ½ of a steamed organic zucchini, which is especially gentle on your GI tract. Cooked squash, pureed soups, and blended smoothies are all good options following a juice cleanse.
The day after the post-cleanse, you can gently ease into a high-nutrient diet style with solids such as fruits, veggies, whole grains, nuts/seeds, beans and legumes.
THE ACTUAL CLEANSE
1-Day Cleanse For Beginners
PHASE 1 – DAY 1
Raw fruits and veggies only. No animal products (meat, dairy, poultry, seafood), no nuts/seeds, no grains, no beans/legumes, no oil, no salt, no sugar, no flour, no alcohol, no coffee, no caffeine, no chocolate.
PHASE 2 – DAY 2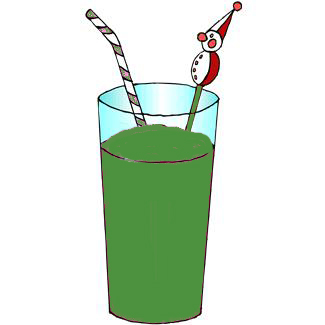 Organic raw fruits and veggies juiced in the 3 to 1 ratio, meaning that each of the cucumber, celery, broccoli stems and apple must have equal amounts of liquid juice. The amount of juice for each food will vary based upon the age, quality and type of the food.
PHASE 3 – DAY 3
Gently cooked squash, pureed soups, blended smoothies and fruit whips.
ALTERNATIVE
Alternative if you don't have a juicer or if medications preclude The Juice Cleanse
An alternative is a blended cleanse, where you blend fruits and veggies in a high-powered blender to create green smoothies, blended soups and fruit whips for a prolonged period of time. This can have a similar effect to juice cleansing without adding stress to your system in the presence of medications.
LONG-TERM BENEFITS
While cleansing seems like a hot trend these days, it has real sustainable power to promote longevity and to reduce aging when made a regular part of your wellness routine.
Juicing provides a form of calorie-restriction and low caloric intake over time that is associated with an increased lifespan.
As a result, juice cleanses can be an integral part of health promotion to enhance quality of life while reducing inflammation in the body.
CONCLUSION
Once you master The Juice Cleanse, I suggest making it a monthly occurrence to help recalibrate your taste buds, cravings, quantities and food habits. In other words, make juicing your lasting friend rather than a temporary trend.
PUBLISHER'S NOTE
Juicing on a regular basis really feels good. It feels as if I have taken a bath from the inside out.
FEEDBACK
Please leave your comments below. We value them very much.
______
ELISA RODRIGUEZ, AUTHOR
Elisa Rodriguez is a registered dietician. She emphasizes a whole food, herbivore eating style in addition to promoting blending, juicing and fasting for health.
Elisa is a living example of the power of healthy food and has defied Lupus through her whole food, plant-based diet. She has her degree in Nutrition and Dietetics from the University of Delaware and is available to work with people on dietary health issues.
____
DIANE GOLD, AUTHOR/PUBLISHER
Diane Gold, Founder of Warriors of Weight, Moms For Healthy Daughters, is a mentor in tai chi, kung fu and meditation, a music, fitness and stress expert and a dedicated mom. She believes in empowering the body through healthy foods. She says,
"The body loves fresh juice. It is so important that we give some to our bodies. We will be thanked a thousand times over."
One Response to "The Juice Cleanse"
Leave a Reply
You must be logged in to post a comment.