GMO LABELING IS HERE ~ ISSUE 213 ~ JULY 5, 2016
By Diane Gold
GMO LABELING SO FAR
VERMONT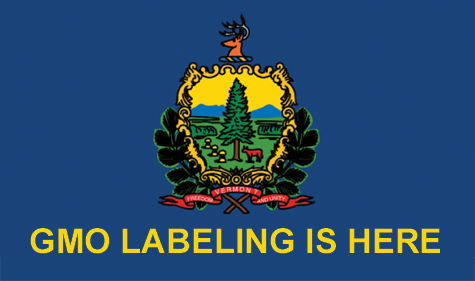 GMO labeling (genetically modified organism labeling) is in Vermont. There are exemptions for dairy. But the Vermont law is a tremendous feat, considering Vermont was sued by Big Food and won.
Within six months of July 1, 2016; all food products not covered by exemptions must be labeled.
Last year, Vermont's Governor Shumlin said,
"Here's an idea for the industry: Just label your products. All of them, nationwide. Sixty-four countries already do it [[http://www.justlabelit.org/right-to-know-center/labeling-around-the-world/]]. I'm sure the food industry in America could summon the moral imagination to be the 65th."
I agree.
At the time Vermont was sued to repeal its GMO labeling law which went into effect July 1, 2016, the States of Connecticut, Hawaii, Illinois, Maine, Maryland, Massachusetts , New Hampshire and Washington filed a friend-of-the-court brief to support Vermont's GMO Labeling bill. Friends are important when a little state has to face off against Big Food with big money.
A new beginning, a GMO Labeling law is in place in one state. Go Vermont!
OTHER STATES
Several other states (Connecticut and Maine) are in line to label GE (genetically engineered) foods. Their side stipulations will mean they will not trigger the enactment of their laws yet, but they are generating awareness of GMOs in food and more and more people are considering whether they choose to consume them.
CURRENT FEDERAL GMO LABELING DRAFT LEGISLATION SHORTCOMINGS
There is a draft bill (EDW16734) by the Senate Agriculture Committee to label genetically engineered organisms in food. Some suggest its purpose is to create a bill with so many exemptions as to remove the need for Big Food to label at all. (Ah, politics!)
Congratulations to the FDA (Food And Drug Administration) for bringing to light some of this draft bill's shortcomings. Here are some of their 'technical comments,'
"The definition of 'bioengineering' that would govern labeling under the new proposal 'would result in a somewhat narrow scope of coverage,' meaning that it would not apply to many foods from genetically engineered sources. It gave an example of a product made with oil from genetically engineered soy, which is in many products. After processing, such oil does not contain any genetic material and thus would not require a label."
(Not having to disclose with what ingredients a product is produced from the start – whether or not ingredients are detectable at the end – is deceitful, opaque and as misrepresenting the truth as saying I don't have to disclose that I put poison in my specially grown green bean fertilizer because, upon harvest, the poison is undetectable. As long as no one eats the beans until they are ready, they won't die. Oh, wait! We, the consumers, are sheep. Why should it be our right to know?)
There is also a very complicated section of the proposed Senate Agriculture Committee law where food producers have loads of wiggle room to get out of labeling because the bill limits the GMO labeling of foods that
"could not otherwise be obtained through conventional breeding or found in nature."
The reason the FDA brought this up is that it will be hugely difficult to disprove that the absence of labeling based on this ground is valid and correct, and Big Food attorneys depend upon this. The draft is written nebulously, whether by ignorance or by design, so that it is not clear whether the exemption of cross breeding referred to the effect of the rDNA (genetically engineered DNA) or the location of the resulting genetic material. With this non-specificity, producers can slip through the law 100 ways, and consumers will be falsely thinking they are getting transparency.
PUBLISHER'S OBSERVATION OF SHORTCOMING ON VERMONT LAW, BUT BIG CONGRATS ON THE LAW FOR STARTERS
We do not educate people about food and the processes to get it to market or the substances that are hidden within processing or the conditions in which workers work. Partial labeling of GMOs is a beginning of a fix for this. The Vermont bill requires that one of three wordings be permitted on a label. I object to two of them because the average person will not realize that the first two mean a product is or may be genetically modified. And there is a blanket exemption on dairy!
The first phrase is,
"may be produced with genetic engineering."
If a product has no genetic engineering, a company will be very specific about tooting its horn and saying so. So the statement where something may be produced with genetic engineering will confuse many everyday people into thinking twice about the fact that a product with that label is genetically modified. I object to conning the consumer in this way and, worse, falsely making the consumer feel s/he has just been educated when s/he has not.
The second phrase is,
"partially produced with genetic engineering."
The word partially softens the idea that a product has genetic modification in it. The everyday consumer will be thinking that partial is better than total and will miss the point of realizing the product is a GMO product. I object to conning the consumer in this way and, worse, falsely making the consumer feel s/he has just been educated when s/he has not.
The third phrase is,
"produced with genetic engineering."
This phrase is the only clear cut phrase of the three and is the only one that will not confuse the average consumer. The fact that so many exemptions are permitted is horrifying.
INTERPRETATION
Just the way the NOSB (National Organics Standards Board) requires that any produce whose soil has used non-organic pesticides is required to wait, at least, three years from the time of this last non-organically approved pesticide application to the time it can call its produce "organic," GMO use resides in the soil or in a product for long periods of time, and GMO labeling is the only label that makes sense.
FYI: here's a list of the synthetic pesticides allowed on organics – very disheartening:
http://www.ecfr.gov/cgi-bin/text-idx?c=ecfr&SID=9874504b6f1025eb0e6b67cadf9d3b40&rgn=div6&view=text&node=7:3.1.1.9.32.7&idno=7
CONCLUSION
Let's educate ourselves by learning what's on our food and what is used to produce our food. The new GMO labeling law in Vermont is a start. The exemptions make one leery as to what has been accomplished. But people, nationwide, are talking. That is the biggest accomplishment. The second is that Vermont won a battle against Big Food. Yay!!!!!!!!
Let's philosophize about our human right to know what is in and on our food in a free society. Who has the right to hide these under the guise of shielding proprietary information. We have the right to know as long as we are free!
Finally, doesn't it seem as if we are tipping the scales on the side of big business? Why are we not looking at 64 other countries, many of them our allies, and considering their motives and studies. Economically, the fact that many of our food producers sell to those 64 countries, they are already label compliant, so it's not such a big deal for them to make this change in their home country, America.
ACTIONS STEPS
1) DISCUSS WITH EACH FAMILY MEMBER OUR RIGHT TO KNOW WHAT'S IN AND ON FOOD.
Our greatest gifts in the United States are the gifts of freedom and human rights. Part of those are exercising and teaching about those rights. Let's get going now.
2) READ THE STUDIES ON GMO SAFETY.
Remember that most GMO safety evidence has been produced by Big Food because they have the money. Neutral, professional study funders are scarce, so that money givers have no agenda to alter the study results in the end. And are the studies studying the effect on the environment?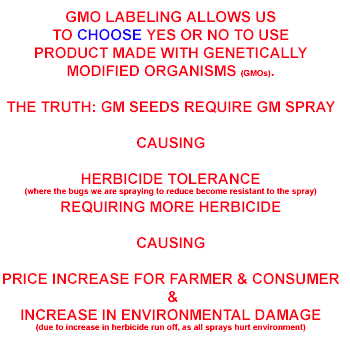 3) DISCUSS INCREASE IN HERBICIDE USE DUE TO HERBICIDE TOLERANCE LEADING TO ENVIRONMENTAL DISASTER WITH ONE PERSON.
Reference this article or others: http://www.forbes.com/sites/bethhoffman/2013/07/02/gmo-crops-mean-more-herbicide-not-less/#6c7b213fa371

If you wish to share your story, leave it as a comment under an article at http://warriorsofweight.com/issues. or even better, write your own article and put it up on a free wordpress site (https://wordpress.com), or post it on a social media site. Share yourself.
If you need habit help, check out warriorsofweight.com/consulting.
Know that you can reach out to a fellow human, probably to the person right next to you. If that interaction works out poorly, do it again. It's worth it, since most people are nice and want to connect with you.

FEEDBACK
Please leave a comment below.
Please LIKE us on the website and at
WarriorsOfWeight on Facebook.
You can comment on Twitter @warriorsoweight.
Thanks.

DIANE GOLD, PUBLISHER AND AUTHOR
Diane Gold, Founder of Warriors of Weight, Turning Habits Into Health, has been a mentor in tai chi, kung fu and meditation, has been a music, fitness and stress expert, dedicated mom, studying peaceful conflict resolution, habit replacement and has been certified in plant-based nutrition.
She believes in freedom. This includes the freedom to depend upon being educated about the food we eat and the processes used for every morsel of that food. She says,
"As a consumer in a free country, it is my right to know the ingredients in and on my food so that I can decide whether they are acceptable for me to consume, so that I can decide if they are produced ethically and so that I can exercise my right as a human being to choose.
"By not knowing whether or not a product was touched by genetic modification, I cannot do this. By not knowing the exact source of an ingredient – that is, animal, plant, mineral, synthetic – I cannot do this. By not knowing what types of rules the employer of the laborers employed during produce processes, I cannot do this.
"I approve GMO labeling and consider it a minimal step in the process of fulfilling what is my right in this free world.
"As we work on this process, let's take overall good care of each other and ourselves – including loving ourselves and our fellow beings at all costs – because we are all always worth it."

EXERCISE OF THE WEEK:
CONSIDER AND REQUIRE OUR RIGHTS IN A FREE SOCIETY WHEN IT COMES TO KNOWING WHAT IS IN AND ON OUR FOOD.

Leave a Reply
You must be logged in to post a comment.