THE O WORD AND HOW EDUCATION DEVELOPS SENSITIVITY IN SPEAKING ABOUT WEIGHT ISSUES (Issues 16)

by Diane Gold
This article is written about the concept of extra weight and obesity in hopes that we will consider kindness and education for health and for to be kind, not because of what's in it for us, other than wisdom (unless we value having it), but because of what we can give if we have a greater understanding.
But, wait. We can use our selfish nature to benefit ourselves, if we only think back to that one embarrassing moment when it all fell apart. Let's think about the time we had a bathroom accident during the school assembly and our thoughtless classmate sitting next to us yelled out loud and exposed us to the whole auditorium or if we think about the time someone in our family passed away and the kids down the road laughed about it and said they were glad the person died because she was ugly or, when I was young, there was only one girl in the whole elementary school whose parents were getting a divorce. Everyone was talking about her because we were unfamiliar with the concept, thus we were ignorant. Now, divorce is as common as marriage, so its stigma has gone away. But, in the 60s, divorce had a stigma and my classmate was ostracized with whispering, gossip and pointing. No one was thinking about this girl's loss of the privilege of living with both her parents under one roof.
STATISTICS AND MEASUREMENT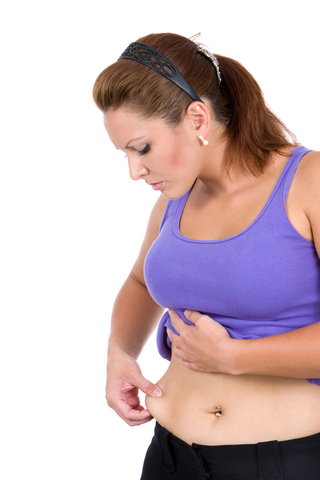 One way we measure our weight is by using the Body Mass Index. A great way to measure what this index defines is to feel whether or not we can pinch much excess skin around our body.  If we can, we are probably carrying extra weight (which scientists have deemed is unhealthy for our organs, our body systems and emotionally), and we have just used a less clinical, simpler method of defining whether our body mass index is high. There are suggestions below as to what to do should we find this in ourselves. The result of this index is what people usually see when they look our way.
Technically, Body Mass Index is a measure of the body's weight in relation to the body's height. Overweight refers to people with a Body Mass Index between 25 and 30, 20% or more above one's ideal weight. The O word refers to people with a Body Mass Index over 30. There is a BMI calculator at our main website  homepage on the right hand. It may be helpful for our goals. And it's free to use.
According to the 2012 update of the American Heart Association/American Stroke Association, around 1 in 3 kids between 2 and 19 carry too much weight, 1 in 6 having a body mass over 30. Compared to comparisons from 1973-4, the 2012 figures are 5 times higher. Why have we in the United States increased our weight? Is it abundant life style? Is it food scarcity where we are forced to eat the wrong foods? Is it the thought of scarcity? Is it our consumption-driven society, where we care more about selling product that teaching the correct paradigm for healthy eating? Is it that the stigma of having extra weight has skyrocketed? This seems to be the case, and due to the growth in this population, we notice more people who distinctly buy larger sizes and more advertising to address these consumers. There is a small group of 1 in 12-15,000 kids born with Prader-Willi Syndrome, a disorder of chromosome 15, which presents as insatiable hunger for life, but this condition does not apply to most people with more weight.
PREJUDICE
Both those who are large and those who are thin seem to show prejudice toward those who are large. This may come from lack of education and lack of sensitivity, fear of a situation not fully understood and self-deprecation. In 2012, we in the United States are legally protected against race/ethnicity, color, national origin, sex, disability, veteran status, or age prejudice at work and at school. (This does not stop the sadness from bullying when people violate this code and the victim does nothing, as happens most of the time.)
Although we know it's not "nice" to reject people because of their looks, we are human and have reactions. Usually, we no longer call people with developmental challenges anything but developmentally challenged. Usually, we no longer call little people anything else.  Usually, we, in the United States, no longer call African-Americans, colored. So why are we still using words not based on human kindness for people who have more to love (MTL) in the O word category?
According to Richard Conniff, a writer for Men's Health Magazine,
"prejudice comes from ignorance, and learning about [this] problem may be the only way to solve it in our society and ourselves."
EDUCATION AND ACTION STEPS
In order to educate others, we must understand ourselves. If we take a small amount of time, we may find some enjoyment in the knowledge that will come from the following mental workouts. Here are some action steps that may help us to understand external prejudice, prejudice toward ourselves, personal options, group options, educating others, helping others and ourselves.
1.    Take the time to understand why our bodies gain weight, meaning where does the craving that drives us to eat come from. Is it a lack of a particular hormone such as leptin, one of the proteins that helps regulate when we stop feeling hungry? Or are we sad because of a particularly recent loss? Or are we doing no physical movement but eating more than we were because we are not moving and have nothing else to do?
2.    Take the time to consider why we would have an unkind reaction to someone with extra weight (even if we, ourselves, are more than our ideal weight). How kind are we in other areas of our life? Are we being understanding in all things or do we have some prejudice of our own to reduce and remove?
3.    Take the time to study our own bodies and how we feel about food and with food. Through deeper understanding, we can make more informed decisions about how we want to live and how we want to proceed.
4.    Take the time to discover whether we have made a personal choice to be large or whether our biology needs monitoring and whether we are happy with and proud of our weight and why. This is a truthful meditation we can do with ourselves, with a coach or with a network of people doing the same thing.
5.    Take the time to learn about eating well and evaluate whether we need more education or assistance. There is always more to learn. And there are always people to help.
6.    Take the time to consider seeing a food advocate or joining a support network to help implement the actions we choose to take, for ourselves or to help others by sharing our discoveries.
UNDERSTANDING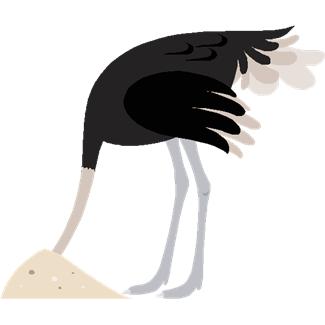 Craving food is like any other urge. It is physiological, (1) sometimes set off by emotions which activate chemicals and (2) sometimes set off by chemicals which trigger emotions and reactions. We must become educated and sensitive to our situation, instead of taking the ostrich approach. What I mean is that we can feel great about ourselves with a little book knowledge and a little self-love. Knowledge truly gives us the power we need not to bury our heads in our pillow in hopelessness the same way as the ostrich in this graphic is burying his head in the sand. There is a prejudice about the ostrich from which this image comes. He does not bury his head in the sand. The male ostrich digs such a deep hole for the protection of the ostrich eggs [5-6 feet] that it looks as if his head is buried in the sand. It is not. To avoid making judgments without full awareness, we need to educate ourselves.
CONCLUSION
Clinically, there is no issue with the word obesity. Scientists, who look after the truth, do not judge the condition in research and don't point fingers. They only study their subject. It is we non-professionals, even if we know about the burden of extra weight, first-hand, who put a social value on it, through lack of education or through irrational (as all emotions are) emotional reaction.
It is said that calling an extra weight person a name is the last socially acceptable form of prejudice. When we are kids, we claw up the pole of life and hurt those in our path, until we gain understanding and nurture compassion. As adults, we usually don't tease each other for having cancer, for losing a limb, for having ADD or for being a different color. The operative word is usually. Yet, the trend of tolerance and sensitivity has yet to reach people who judge the community of around 75 million people whose BMI is over 30, and the derogatory words of the last century are still being used with ignorance.
It would seem that the current generation is more compassionate than the last four as it is more exposed to technological speed and fresh and uncensored truth, there are multi-national cultures in all major areas in the United States and it is clawing up a new ladder to adulthood where its generation members typically have a network of 1000 international friends as part of their every day life.
So, tolerance for difference is built in. It is up to all of us, especially the moms and the older generations, though, to take a look at our own humanity, acknowledge our own prejudices, make an effort to dump them in the corner garbage can or, at least, put them in the closet in front of our children until we can delete or temper them, educate ourselves and then go out and educate others as to what we have discovered about body weight and what we have learned about being sensitive to our fellow humans.
FEEDBACK
Please leave your comments below, use our contact us tab or on twitter us: @warriorsoweight.
______
DIANE GOLD, AUTHOR
Diane Gold, Founder of Warriors of Weight, Moms For Healthy Daughters, is a mentor in tai chi, kung fu, fitness and meditation, a music and stress expert and a dedicated mom. She believes that doing slow, consistent physical work will build foundation of the mind that will maximize our happiness and health, even in the most difficult of times. She says, "As we are coming and going in our daily activities in life, we might as well exercise during the times we are transporting ourselves."
One Response to "The O Word And How Education Develops Sensitivity In Speaking About Weight Issues"
Leave a Reply
You must be logged in to post a comment.